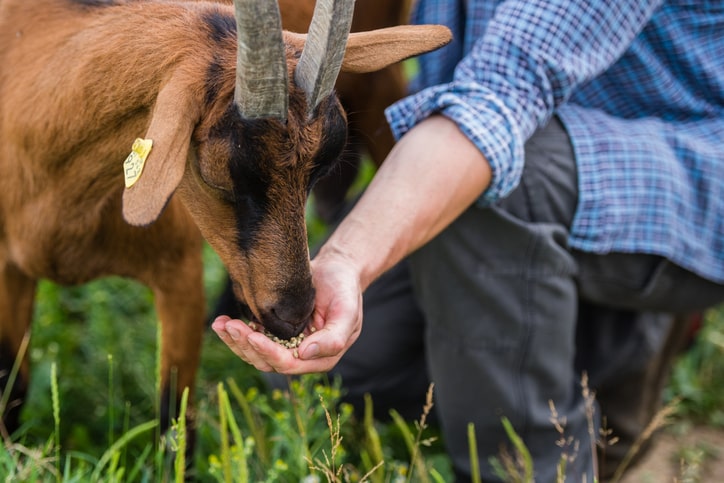 How Much to Feed a Goat
Some goats are foragers and will eat everything from hay to grass and grains. Others are more careful eaters or prefer a specific diet. If you are raising goats commercially, consider offering a structured, reliable diet of pellets to ensure optimal and balanced nutrition.
What to Feed a Goat
Goats can eat many foods, including:
Chaffhaye, which is grass or alfalfa cut early and treated with molasses and live cultures
Grains
Weeds
Hay, including alfalfa hay
Fruits and vegetables
While many of these options are loved by goats, none offer complete nutrition. Also keep in mind that fruit may contain more sugar than your goats need.
It can be challenging to determine whether your goats are getting all their nutritional needs met from foraging or a range of foods. That's why many farms choose to feed organic pellets. Pellets are designed as complete foods, so your goats get all the nutrients they need without any additional sugars or other unhealthy ingredients.
Browse Organic Goat Feed
When feeding pellets, you will also want to provide quality forage, such as hay, grains or weeds so goats can select to supplement, as well as plenty of fresh water. Enjoy the comfort of knowing all your goats' nutritional needs are being met with high-quality organic pellets.
How Much Grain to Feed a Goat
How much grain to feed your goats will depend on whether they forage or take in other nutrition. The exact grain used will also include amounts. For goats fed primarily with grain, a cup for adults and half a cup for kids may be appropriate, depending on the grain. You will also want to provide quality forage for your goats daily.
How Many Pellets Should I Feed My Goat?
If you are feeding pellets, it is much easier to control amounts and thus the health and weight of your goats. Pellets are nutritionally balanced, so you will know exactly how much to feed your herd.
Nature's Best Organic Goat Feed pellets are 16% protein and fully fortified for both adults and growing kids. This formula is non-medicated, organic and Non-GMO Project-Verified, like all products from Nature's Best Organic Feeds. It is a complete feed and contains copper as well as the other nutrients and minerals your goats need.
If you have growing kids and goats, you will want to feed each goat one to two pounds of Organic Goat Feed pellets daily. For a lactating goat, feed one pound of the pellets daily for every three pounds of milk produced. If you have gestating goats, feed one and a half to two pounds of these pellets per goat per day. In all cases, make sure to provide high-quality forage as well.
Find a Feed Store Near You Today
If you're interested in high-quality organic feed designed for the nutritional needs of your goats, find a store near you that offers Nature's Best Organic Feeds products in both bagged and bulk quantities.
Find Our Feed
Contact Us Today