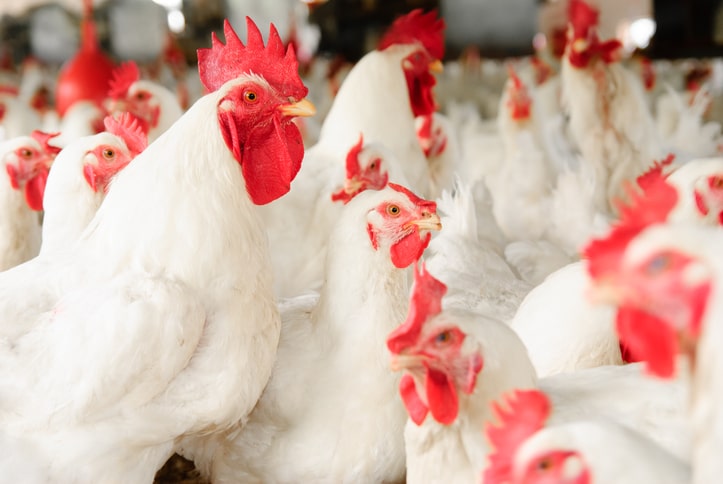 How to Make Broiler Chickens Grow Faster
Improving feed efficiency is usually associated with helping broiler chickens grow faster. While it's essential to boost nutrient delivery to your chickens and balance the ratio between energy and amino acid intake, there are also several ways to enhance your bird's feed efficiency rate even after the feed is delivered. 
As a farmer, improved feed efficiency and increased profitability is crucial. At Nature's Best Organic Feeds®, we understand how important this is for both your birds and your business, so we've compiled five routine management measures that will help you make your broiler chickens gain weight — and fast. Keep reading to learn how to make chickens gain weight fast with natural tactics. 
Organic Broiler Grower Pellets
Soy Free Broiler Grower Pellets
How to Increase the Weight of a Broiler Chicken 
Consumers want to buy big, healthy birds, so it's up to poultry farmers to find ways to increase the weight of their broiler chickens as safely and naturally as possible.
To make your chickens gain weight or grow faster, try:
Using feeders that don't waste feed: 

Although it may be tempting to purchase cost-effective feeders, investing in high-quality feeders that do not spill or waste chicken feed can pay off more in the long run.  

Putting broilers into groups based on their body size and weight: 

When you sort your broilers based on similar body size or weight, you eliminate the issue of inequality. This way, the smaller broiler chickens can eat without being cheated by bigger birds who may try to bully them off the feeder. 

Ensuring they are eating well: 

It's essential to supply your broiler chickens with the nutrients they need for fast, healthy growth.

Deciding on the best feed for your broiler chickens

 can depend on their age and even their preferences. At Nature's Best Organic Feeds®, our experts will be happy to help you decide on the 

ideal chicken feed

 for your birds.

Avoiding hot spots in feed silos: 

When warmer and more humid months roll around, mold growth can quickly occur in the broilers' silos. Hot spots or patches of old moldy feed sticking to the insides of the silos may produce mycotoxins and consume valuable nutrients. To avoid this, make sure to clean and inspect silos periodically. Placing drinkers close to the feeders — but not too close — can also reduce the chances of feed spoilage and enhance feed efficiency. 

Using the lights on and off tactic: To ensure the best feed digestibility for your birds, use a lights-on, lights-off program. This method ensures your broiler chickens fully digest their feed while resting and gives them enough time to consume a healthy amount of feed during light hours. If you do use this method, make sure there are enough feeding spaces for all broilers to eat simultaneously. 
Buy Organic Broiler Grower Pellets
For almost 75 years, Kreamer Feed, producer of Nature's Best Organic Feeds®, has been committed to helping their customers raise healthy and happy chickens, goats, swine and ducks. Their organic brand, Nature's Best Organic Feeds, offers non-medicated, organic and Non-GMO Project-Verified products in both bulk and bagged quantities.
See for yourself why our premium line of chicken feed is prized for its superior quality when you pick up a bag at your local Tractor Supply Company. Or, to learn more about how to feed chickens for fast growth, contact a member of our team today.
Find Our Feed
Contact Us Today