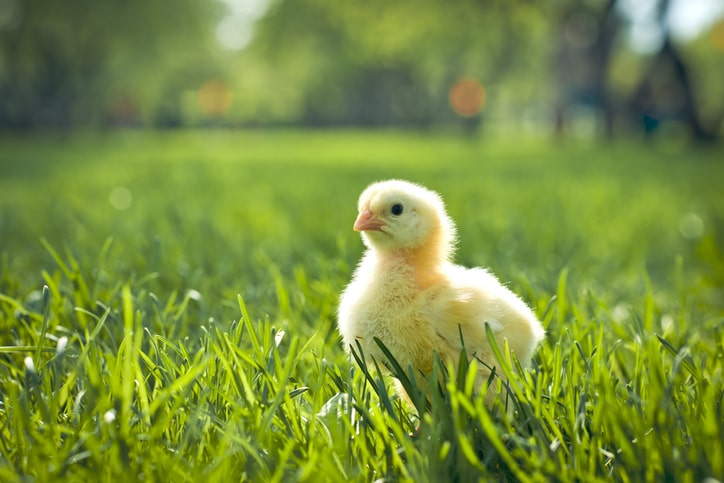 What Is a Spring Chicken?
If you have spring chickens of your own, you're probably more than familiar with the definition of this term. "Spring chicken" typically means young chickens — which are only available during the springtime — intended for eating. These chickens are normally less than 28 days old and weigh around 750 to 850 grams.
The phrase "no spring chicken" refers to someone who is viewed as old, as this expression originated from the 1700s when farmers needed to sell their chickens while they were still young. If these chickens did not sell during the spring, they would age through the winter and be significantly less profitable.
To get the most from your spring chickens, you need to understand how to adjust your care according to the season to ensure they are as healthy as possible.
Browse Organic Chicken Feed
How Do I Care for My Spring Chickens?
When springtime comes, you have to take extra steps to ensure your chickens are properly cared for and content throughout the season. You may need to modify some of your usual practices to adapt to the changing temperatures or excess rainfall during this period. Some strategies you can use to make sure your chickens stay in the best shape possible include:
Preventing muddy enclosures: Because standing water can lead to an accumulation of bacteria, it's best to locate your coop on high ground or in an area where the water can drain.
Accounting for increased laying: Spring also means your chickens will be laying more eggs. To prepare, give them extra calcium supplements and all-flock feed with amino acids and vitamins.
Eliminating disease and illness: To increase your biosecurity during the spring, rinse off your shoes before entering the coop and clean up the chicken's droppings frequently so their space doesn't become muddy.
Limiting your flock's free-ranging: Your spring chickens may be anxious to free-range, but this practice makes them more susceptible to parasites, predators and non-nutritional forage.
Providing proper nutrition and supplements: You may need to change the supplements you give your chickens to suit their new needs. You can provide ones that increase their immune health and production.
Take Care of Your Spring Chickens With Our Organic Feed
At Nature's Best Organic Feeds, we have a wide range of different feeds that prioritize the well-being of your spring chickens. We are the leading certified organic feed manager in the U.S., meaning you can trust our products to give your spring chickens the nutrition they need to stay healthy and strong. All our feeds are non-medicated, organic and Non-GMO Project Verified, providing you with an array of feeds to rely on.
We offer different products to fulfill all the goals you have for your chickens, such as high-protein pellets, soy-free pellets and organic poultry scratch grains. To learn more about our pellets or find the product that will maximize your spring chickens' health, browse our selection of chicken feed today. You can also contact us directly, and we'll help you find the right product for your chickens.
Find Our Feed
Contact Us Today