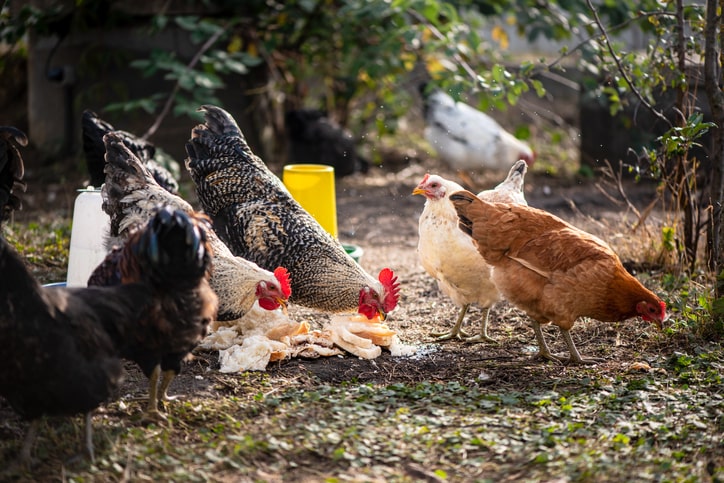 Benefits of Non-GMO Chicken Feed
Whether you are raising chickens for eggs or as backyard farm animals, you are most likely familiar with the wide range of chicken feed options available at your local feed store. One thing you'll have to choose is whether you'll give your chickens a GMO or non-GMO feed.
While the prices can sometimes vary, are there any benefits in specifically choosing non-GMO chicken feed?
Browse Non-GMO Chicken Feed
What Does Non-GMO Mean?
While GMO and non-GMO feed may look the same, there are some significant differences in how each product was developed and produced. Genetically modified organisms (GMOs) undergo artificial genetic manipulation or alteration in a laboratory. Most commonly, this process is achieved by transferring the individual gene from one organism into another.
By genetically engineering these organisms, scientists can produce crops resistant to insects, pesticides, bacteria and viruses. While various products can be genetically engineered, some of the most common ones include soybeans and canola.
For a product to be listed as non-GMO, it must undergo verification by the Non-GMO Project, be verified by third-party inspectors and receive annual audits of high-risk products. This process ensures the feed is free from any genetically modified organisms.
Why Choose Non-GMO Feed?
Undoubtedly, GMO chicken feed offers several benefits. Because of the way it's produced, it:
Ensures an increased supply of food.
Delivers increased resistance to insects, viruses and diseases.
Provides greater durability a longer shelf life.
Offers a lower production cost and price point.
While there are several advantages, the effects of this type of modification and alteration haven't been studied long term because genetically modifying feed is still a relatively new process. Products containing GMOs also do not require identifying labels, making it difficult to determine which feeds have undergone genetic modification.
Because of this, non-GMO products are a good alternative. When chicken feed is listed as Non-GMO Project Verified, you'll have peace of mind knowing none of the organisms within the feed have been altered or modified at the genetic level. Other benefits of non-GMO chicken feed include a better, fresher taste your chickens will find hard to resist, made using ethical growing and farming practices.
Find Organic, Non-GMO Chicken Feed at Nature's Best Organic Feeds
Here at Nature's Best Organic Feeds, we've been helping farmers raise healthy backyard farm animals for over 70 years. As the leading certified organic feed manufacturer in the United States, we have a collection of organic, non-GMO and non-medicated chicken feed options available for farmers and their livestock.
While all our feed is formulated by nutrition experts, we also take the time to regularly test our grain to ensure each feed bag is certified organic to suit our consumers' needs.
Find Our Non-GMO Chicken Feed in a Store Near You
To find our premium line of feed in a store nearest you, we invite you to use our store locator tool. You can choose from either bagged or bulk quantities and experience peace of mind knowing you are feeding your chickens the way nature intended.
Find Our Feed
Contact Us Today