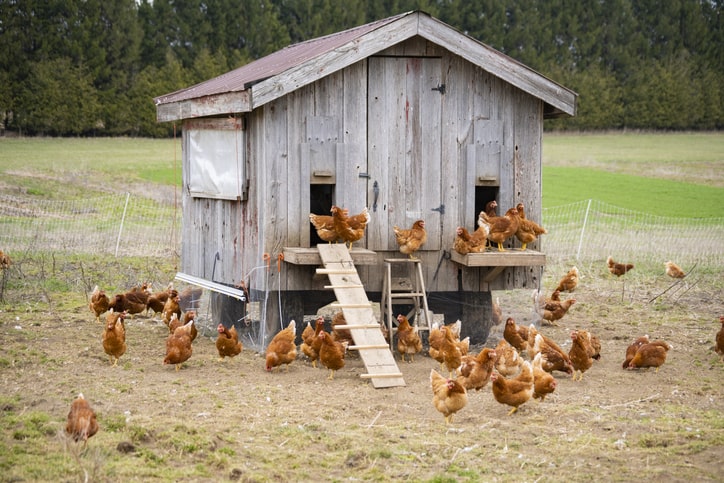 How to Build a Chicken Coop
If you would like to keep a few chickens in your yard, you can build a chicken coop even with a basic understanding of carpentry. If you want to keep many chickens or desire a fancy coop, you may need some advanced ability or want to hire a contractor.
How to Design a Chicken Coop
When designing a chicken coop, you will need to start by envisioning where each section of the coop will go. Your chickens will need a closed space to lay eggs and sleep in. The enclosed area should be at least two feet above ground so droppings can fall down onto the dirt. Your chickens will also need an outdoor chicken run to move around in. You may want a fence around this run to prevent the chickens from roaming too far. A ramp can help your chickens move between the run and the enclosed space.
The ideal chicken coop dimensions are at least two or three square feet inside the coop per chicken and about four to five feet per chicken in the run. Giving the birds more room is beneficial, as it will prevent squabbles.
Your coop and run should have a shaded area. You can place the chicken run under a large tree for shade or use shade material above the run to give your chickens some sun protection.
Chicken Coop Lumber List
To build a coop, look for lumber that's naturally resistant to pests. Both redwood and cedar are good options! Avoid pressure-treated lumber, as it contains metals and chemicals which could be unhealthy for your birds. You will need:
Lumber from 1 X 2 to 4 X 4 or larger, depending on the frame size you will need
Wood dowel of up to 3/4 inches in diameter for the roost
Galvanized chicken wire to surround the run
Galvanized wood screws, bolts, door hinges, and nails for assembly
Plywood up to 3/4 inches thick for the floors, roof, sides, and nesting boxes
Shingles for the roof
Wood stain or paint
You will also need a carpenter's square, level, measuring tape, wire cutters, saw, and drill to assemble the coop.
How to Build a Chicken Coop
Building a chicken coop starts with setting four vertical posts into the ground. You will also need to attach posts for the floor of the coop, and an entry to the run and for supporting the frame of the interior space. Add more posts for the chicken run.
For the indoor coop, add floor planks. Make one-third of the back of the floor chicken wire, so droppings can fall outside. Install a ramp from the gate to the run and secure chicken wire to the posts around the run.
Stock up on Organic Products for Your Chickens
Once your chicken run and coop are set up, you can start introducing chickens. You'll want to support your birds with quality nutrition, which is easy to do with the right products. Nature's Best Organic Feeds is a family-owned and operated company offering chicken feed that is organic, non-medicated and Non-GMO Project-Verified. Contact us for more information on our offerings.
Find Our Feed
Contact Us Today