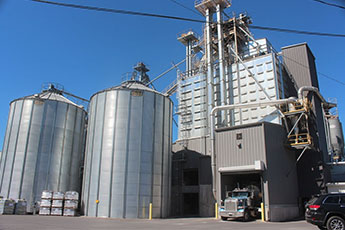 Kreamer Feed, Inc. Opens New Organic Mill
Click For Grand Opening Video Coverage!
October 2013, KREAMER — Pennsylvania Secretary of Agriculture George Greig joined about 300 others at Kreamer Feed on Thursday morning to celebrate the company's 66th year in operation and grand opening of a new organic mill. The company, which employs about 100, added 10 positions this year after building the new computerized organic mill at its location off Route 522. A separate existing mill is used for producing and marketing non-organic feed.
Chairman of the Board William Robinson said the multimillion dollar mill is the largest investment ever made by the company and will allow for doubling feed production.
"Kreamer Feed is a unique operation and is taking a big step to ensuring their own future," Greig said at the open house. "The company has been adapting for 65 years."
Jason Robinson, president and the third generation of family members involved in the operation, said, "Hopefully, the future is just as robust as the past has been, and we've paved a way for fourth, fifth and sixth generations."
Bill Wolf, organic specialist and founding president of the Organic Materials Review Institute, said despite sales of organic food rising about 10 percent each year, Kreamer Feed is one of the few companies investing in new construction devoted solely to organic feed production.
Consumers spent about $31 billion on organics in 2012, and sales continue to rise due to consumer demand and health concerns, Wolf said.
"I'm delighted to be at this event (that demonstrates) Kreamer is home to a feed company with worldwide renown," said Snyder County Commissioner Peggy Chamberlain Roup, who joined other state and local officials who turned out for a tour of the new mill. Also there were state Sen. John Gordner, R-27 of Berwick, Rep. Fred Keller, R-83 of Kreamer, and Snyder County Commissioner Malcolm Derk.
Derk said the continued success of the company that started more than six decades ago with a single building is a "tribute to (founder) George Robinson's hard work."